Above:  Vittoria Cafolla (BFF) Denis Long and Nicolae Nicola (NIRRCA)
Last week saw the screening of Gadjo Dilo (Crazy Stranger) at Movie House, Dublin Road. This was the first in a series of events to promote Roma culture and support community relations through film. Denis Long and Nicolae Nicola from RRCANI (Romanian Roma Community Association NI ) introduced the screening to over 100 members of the Roma Romanian community in Northern Ireland.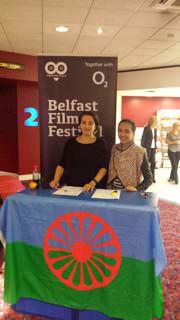 The BFF / RRCANI initiative will see a total of 4 screenings in the Romani / Romanian language rolled out over the coming months in a number of Arts venues, including The Crescent Arts Centre and The MAC.   The aim of the initiative is to create welcoming environments for positive interactions with the community.  To support the development of the self-esteem of the local Roma community and offer authentic learning opportunities for the wider local communities, as Roma culture and traditions are often misunderstood and misrepresented.
The screening was supported by Movie House, Dublin Road.