The 22nd Belfast Film Festival announced the winners of its inaugural International Film Competition at the closing night ceremony on Saturday 12th November.
The competition celebrates the most exciting new films from around the world that are a first or second feature. Sponsored by Yellowmoon Post Production, prizes were awarded to Best Film Director, alongside Jury Prizes for Outstanding Craft Contribution and Breakout Performance. The International Film Competition jury was led by BAFTA and Academy Award-winning director Andrea Arnold. Arnold was joined on the jury by producer/writer Catherine Bray and multi-award winning actor Stephen Rea.
The winners of this year's films screening in competition are listed below. We are delighted that they all took the time to send us a video accepting their awards. Take a look below.
Best Film Award – Return To Seoul  – Davy Chou
The award for the Best Film (£7,000) in the Belfast Film Festival's first-ever International Competition, was awarded to Davy Chou's RETURN TO SEOUL. The jury felt it was a fully realised narrative that skilfully demonstrates the fundamental and universal desire to connect, through a very specific and precisely constructed lens. Anchored by a commanding and emotionally rich performance from Park Ji-min that distills a lifetime of experience into a couple of hours' screentime.
Breakthrough Performance – Rosy McEwen and Kerrie Hayes- Blue Jean
The jury awarded Breakthrough Performance (£1,500) to two actors, Rosy McEwen and Kerrie Hayes. "Each of these two performances makes up an essential half of the film's central relationship. Both Rosy McEwen and Kerrie Hayes are doing superb work in Georgia Oakley's remarkable Blue Jean, and it's our pleasure to jointly award them Breakthrough Performance."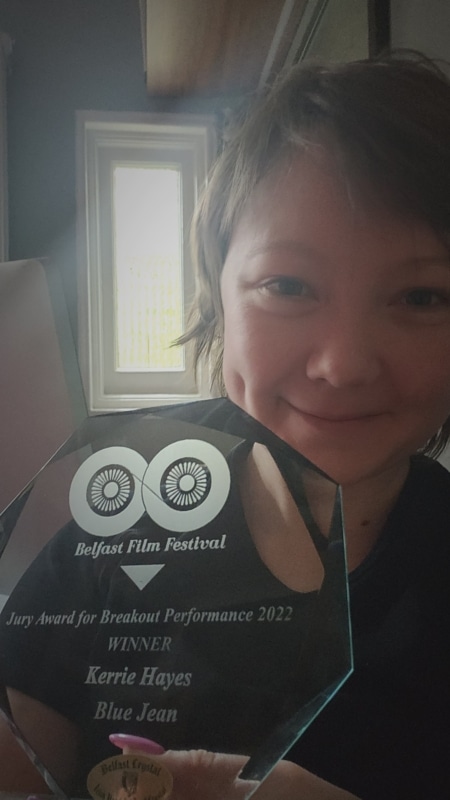 Award for Outstanding Craft – Ioseb 'Soso' Bliadze and Taki Mumladze – for the screenplay for A ROOM OF MY OWN 
The award for Outstanding Craft Contribution (£1,500) was given to the director and writer Ioseb 'Soso' Bliadze, and the actor and writer Taki Mumladze, for their work together as the screenwriters of A Room of My Own, in which Taki also stars. "This gorgeous Georgian film explores every dimension of a burgeoning connection, with wit and charm to spare. It is a film full of character and humour. "
Best Short Competition Film – Sour Milk & Still Up There
There were two winners of the Short Film Competition sponsored by Millar McCall Wylie. Best Short Competition Film was awarded to Mark Keane for Sour Milk and Joe Loftus for Still Up There. The Belfast Film Festival Short Film Competition Jury was be led by Irish Times writer and film critic Tara Brady who was joined by Laura Conlon and Dr. Stephen Baker. "We were simply floored by Mark Keane's brilliantly succinct tale of desire, masculinity, and self-loathing; a masterclass in visual economy packed into five gripping minutes. Joe Loftus's four-minute space opera, Still Up Here, gifted us with such impactful, nightmarish tableaux, it might have troubled Harlan Ellison, the great late science fiction provocateur."