Happy birthday to us! We are so excited to be celebrating our 20th birthday this year. We would love for you to join the festivities between the the 1st – 9th April…
​To give you a taste of what's to come we've decided to reveal NINE events ahead of the full release on Thursday 5th March. Check them out below!
Women Make Film: A New Road Movie Through Cinema
Women Make Film is an epic exploration of cinema history through the lens of some the world's greatest directors – all women.
Told in 40 "chapters", narrated by Tilda Swinton, Jane Fonda, Debra Winger, Adjoa Andoh, Kerry Fox, Thandie Newton, and Sharmila Tagore, shot and edited by Mark Cousins – life, love, politics, humour and death, are all explored and examined in this epic 14-hour road trip like no other. This is your chance to see the whole film, in 3 instalments.
Women Make Film will be shown in 3 instalments from 11am – 5pm on the 3rd, 4th and 5th of April in the QFT. Tickets are £6.50 each, or £15 for all 3.

Book tickets here.
Adam + Director Q&A
We are delighted to welcome writer and director Maryam Touzani and producer Nabil Ayouch to take part in a Q&A following the screening of Adam.
Two women, marginalised by Moroccan society, transform each other's lives in Maryam Touzani's feature about the courage and compassion it takes to move beyond living with grief and shame.
Supported by the Film Africa Travel Grants pilot scheme, delivered by the Royal African Society in partnership with the British Council.
Sunday 5th April, 6pm, QFT
Book tickets here.
Mad Max: Fury Road at Sonic Arts Research Lab
This intense, two-hour chase sequence is underscored by a muscular soundtrack and is one of the best Dolby Atmos demonstrations available.
Set in Australia years after a nuclear war has scorched the Earth, Fury Road follows Max Rockatansky as he joins a band of women fleeing a brutal warlord.
The Sonic Lab is a specialist acoustic space which has 48, strategically located loudspeakers and the auditory equivalent of an IMAX cinema. 
Saturday 4th April, 3pm, SARC
Book tickets here.
John Lloyd: In Conversation
Who devised and produced iconic British TV and radio series such as Blackadder, Not the Nine O'Clock News, Quote… Unquote, and QI?
Who has more Bafta awards than anyone else in the world, except for Dame Judi Dench?
The answer is the same: John Hardress Lloyd, the legendary producer, director, writer, raconteur, presenter and comedian.
Wednesday 8th April, 7pm, Crescent Arts Centre
Book tickets here. 
Arracht
A strong, character-driven thriller set during a tumultuous period in Irish history. Told in the Irish language, and set on the eve of The Great Hunger.
Arracht (meaning Monster) tells of a fisherman who takes in a stranger on the request of a priest. Director Tom Sullivan skilfully creates a haunting atmosphere that stays with you long after you leave the theatre. Can a man who has lost everything find a way back to himself and start a new life?
Tuesday 7th April, 7pm, Odeon
Book tickets here. 
The Wandering Earth
This blockbuster from China stars a talented ensemble of Mandarin speaking actors trying to stop the Earth from crashing into Jupiter.
The Wandering Earth tells the story of a distant future in which the sun is about to expand into a red giant and devour the Earth, prompting mankind to make an audacious attempt to save planet. The multi-generational heroes build ten-thousand stellar engines in an effort to propel Planet Earth out the solar system, in the hope of finding a new celestial home.
This screening is supported by Consulate-General of China in Belfast.
Friday 3rd April,  7pm, Odeon
Book tickets here. 
Flash Gordon at 40
"Flash – ah ahhhhhh. He's a miracle!"
To mark the 40th anniversary we have special screening of this camp classic.
Heroic earthling Flash Gordon saves the world from the nefarious Ming the Merciless in this lavish, intentionally campy adaptation of the famous sci-fi comic strip. The story is as basic as space operas get: Ming (Max von Sydow) has developed a plan to destroy the Earth, and Flash (Sam J. Jones) and his companion, Dale Arden , are called upon to stop him.
Thursday 2nd April, 5pm, QFT
Book tickets here. 
Reframing Streisand: Funny Girl

Reclaim the Frame is a film tour celebrating Barbra Streisand's contribution to cinema.
Join Birds' Eye View for a special screening of Funny Girl and get into character with a pre- film beehive and winged eyeliner workshop.
Reframing Streisand is a Birds' Eye View: Reclaim the Frame film tour celebrating Barbra Streisand's contribution to cinema through her ever-popular musicals and exploring her status as a misunderstood superstar, powerhouse producer/director and cultural icon.
Tuesday 7th April, 7.30pm, Blackbox
Book tickets here.
Say Amen, Somebody with the Belfast Gospel Choir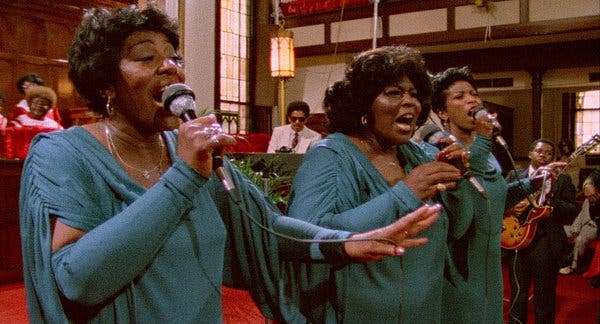 Belfast Film Festival presents Say Amen, Somebody – the exuberant, joyous and deeply moving documentary from George T. Nierenberg that celebrates American gospel music.
The Belfast Community Gospel Choir will perform a 25 minute set before the film. Hailed as the 'Soul of Belfast,' their performances are charged with passion and energy, while the sheer joy they exude is infectious!
Friday 3rd April, 8pm, Rosemary Street Church
Book tickets here.
£48 for a festival pass?!
As a birthday treat there is 20% off our usual festival pass price. For a bargain price of only £48 you can enjoy 9 days of screenings in a variety of venues across the city.
Benefits
👉 Admission for one person to all screenings and events in the following Programme Sections: New Cinema, Altered States, TV Eye, Rewind, NI Independents and the Short Film Competition.
👉 Complimentary Festival Bag
👉 Festival T-Shirt
👉 A printed programme.